LETTER FROM THE EDITOR
Dear Colleague,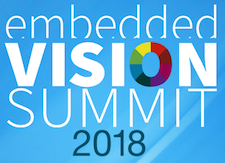 The Embedded Vision Summit is the preeminent conference on practical computer vision, covering applications at the edge and in the cloud. It attracts a global audience of over one thousand product creators, entrepreneurs and business decision-makers who are creating and using computer vision technology. The Embedded Vision Summit has experienced exciting growth over the last few years, with 98% of 2017 Summit attendees reporting that they'd recommend the event to a colleague. The next Summit will take place May 22-24 in Santa Clara, California. Register for the Embedded Vision Summit while Super Early Bird discount rates are still available, using discount code NLEVI0213.
Brian Dipert
Editor-In-Chief, Embedded Vision Alliance
CAREER OPPORTUNITIES
Positions Available for Computer Vision Engineers at DEKA Research



Inventor Dean Kamen founded DEKA to focus on innovations aimed to improve lives around the world. DEKA has deep roots in mobility: Dean invented the Segway out of his work on the iBot wheel chair. Now DEKA is adding autonomous navigation to its robotic mobility platform. The company is leveraging advances in computer vision to address the challenges of autonomous navigation in urban environments at pedestrian to bicycle speeds on streets, bike paths, and sidewalks. DEKA is seeking engineers with expertise in all facets of autonomous navigation and practical computer vision – from algorithm development to technology selection to system integration and testing – and who are passionate about building, designing, and shipping projects that have a positive, enduring impact on millions of people worldwide. Interested candidates should send a resume and cover letter to jobs@embedded-vision.com.
DEPTH SENSING
Designing a Stereo IP Camera From Scratch


As the number of cameras in an intelligent video surveillance system increases, server processing of the video quickly becomes a bottleneck. On the other hand, when computer vision algorithms are moved to a resource-limited camera platform, their output quality is often unsatisfactory. The effectiveness of vision algorithms for surveillance can be greatly improved by using a depth map in addition to the regular image. Thus, using a stereo camera is a way to enable offloading of advanced algorithms from servers to IP cameras. This talk from Anton Leontiev, Embedded Software Architect at ELVEES, JSC, covers the main problems arising during the design of an embedded stereo IP camera, including capturing video streams from two sensors, frame synchronization between sensors, stereo calibration algorithms, and, finally, disparity map calculation.
How 3D Maps Will Change the World


In the very near future, cars, robots, mobile phones and augmented reality glasses will incorporate inexpensive and efficient depth sensing. This will quickly bring us to a new world in which 3D maps with accuracy of 1 cm or less are readily available. The availability of 3D maps will create great opportunities for many industries to invent new services, achieve new levels of user experience and accumulate new knowledge. Eventually, the value of 3D maps will exceed the value of traditional maps (such as Google Maps) by many times! In this presentation, Vitaliy Goncharuk, CEO and Founder of Augmented Pixels, explores business opportunities enabled by 3D maps in automotive (for example, Mobileye's Road Experience Management), home robots (fully autonomous personal assistants, vacuum cleaners, etc.), logistics and other sectors. He also discusses the synergy among different devices enabled by merging 3D maps in the real time to perform complex tasks in warehouse management, industrial maintenance and repair and other domains.
CAMERA DEVELOPMENT
A New Generation Vision Camera for Embedded Systems


This presentation from Paul Maria Zalewski, Product Line Manager at Allied Vision, gives an overview of a new innovative embedded camera with a unique vision processor and integrated image processing capabilities. The combination offers new perspectives in the designing of embedded systems, which require image acquisition with advanced pre-processing at a small form factor and low power consumption. So far, the range of suitable image sensors on cameras for embedded systems is limited. The Allied Vision product line provides a broad selection of state of the art sensors of leading manufacturers like Sony and Aptina/ON Semiconductor. The sensor performance portfolio extends across low-cost, mainstream and high-end, covering resolutions from VGA up to 21 Mpixels.
The Power of a Turnkey Camera Solution


In this presentation, Fan Wang, Technical Director at Thundersoft, showcases the power of a turn-key camera solution via the company's camera development kit, which can be used for algorithm development and smart camera product prototyping, The camera system-on-module found in the development kit is also sold standalone by the company for mass production opportunities.
UPCOMING INDUSTRY EVENTS
Embedded World Exhibition and Conference: February 27-March 1, 2018, Nuremberg, Germany
Embedded Vision Summit: May 22-24, 2018, Santa Clara, California
DEEP LEARNING FOR COMPUTER VISION WITH TENSORFLOW TRAINING CLASSES