In-depth information about the edge AI and vision market, applications, technologies, products, and trends.
Read industry market analyses, blogs, news, and press releases from our Member companies.

This blog post was originally published at Qualcomm's website. It is reprinted here with the permission of Qualcomm. Qualcomm AI Research's latest research and techniques for efficient video perception The saying goes that a picture
Read More »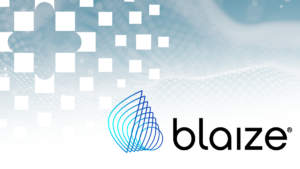 Blaize
Serve edge AI markets across automotive and industrial edge computing El Dorado Hills, CA — October 14, 2021— Blaize®, the AI computing innovator revolutionizing automotive and edge computing, and NEXTY Electronics Corp., a core member of the Toyota Tsusho Group, today announced NEXTY is now a Blaize distribution partner serving automotive and industrial markets for
Read More »

Axelera AI
Experts Hail from IBM, Google, ETH Zurich, and Other Leading Organisations EINDHOVEN, October 13, 2021 – Today, semiconductor start-up Axelera AI announced that Prof. Dr. Evangelos Eleftheriou has joined its executive team as Chief Technology Officer. Axelera AI also announced two new appointments to its cohort of scientific advisors, Prof. Dr. Marian Verhelst and Prof.
Read More »

Industrial Vision (Computer Vision)
For angle measurement and inline control of sheet metal bending processes, Vision Components supplies industrial-grade ready-to-use solutions, customer-specific systems, and OEM kits October 13, 2021 – Vision Components will present its flexible modular system for optical angle measurement in sheet metal bending applications at its Blechexpo booth #5-222. The tested and proven laser sensors can
Read More »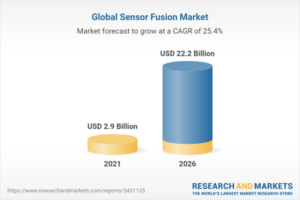 Automotive
For more information, visit https://www.researchandmarkets.com/reports/5451135/global-sensor-fusion-market-for-automotive-by The ICE sensor fusion market for automotive is projected to reach USD 22.2 billion by 2030 from an estimated USD 2.9 billion in 2021, at a CAGR of 25.4% during the forecast period. Various governments globally are implementing safety standards by making safety features such as automated emergency brake, adaptive
Read More »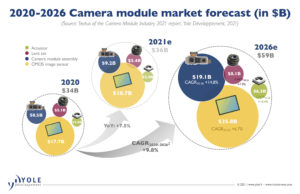 Market Analysis
This market research report was originally published at Yole Développement's website. It is reprinted here with the permission of Yole Développement. "Many cameras" approach in mobile phones and automotive continues to drive the industry forward. OUTLINE: Market figures: The COVID-19 pandemic combined with US-China trade tensions have marginally affected the continued growth in 2020. The
Read More »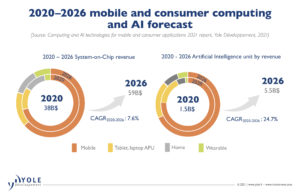 Market Analysis
This market research report was originally published at Yole Développement's website. It is reprinted here with the permission of Yole Développement. AI features are becoming standard in consumer applications. Yole announces a US$ 5.6 billion market by 2026. OUTLINE: Market forecasts: Processor market is showing a 7.6% CAGR between 2020 and 2026, driven by dynamic
Read More »

Algorithms
This blog post was originally published at Qualcomm's website. It is reprinted here with the permission of Qualcomm. Qualcomm AI Research's latest research and techniques for efficient video perception The saying goes that a picture is worth a thousand words, so what does that imply for video? Video, which is essentially a sequence of static
Read More »

Blog Posts
This blog post was originally published at Syntiant's website. It is reprinted here with the permission of Syntiant. Syntiant recently submitted its NDP120 into the MLPerf Tiny category for keyword spotting and our internal measurements pegged our solution at around 60 uJ/inferences at a 6ms latency. As a comparison, the one other published MCU-based benchmark
Read More »

Blog Posts
This blog post was originally published by Opteran Technologies. It is reprinted here with the permission of Opteran Technologies. The start-up years – how Opteran is laying the right technology foundations for success It's been several months now since I've joined Opteran as Chairman and it has been exciting to get to grips with the
Read More »