EMBEDDED VISION SUMMIT SPECIAL EDITION
Dear Colleague,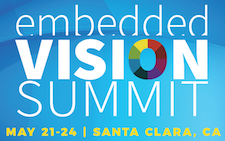 Only two weeks to go until the Embedded Vision Summit, the industry's largest event for practical computer vision. We're devoting this issue of Embedded Vision Insights to covering the exciting speakers, presentations and workshops we have planned. The complete schedule is now published, and you should definitely take a look. Better yet, register now before it's too late! This year's event promises to be the best yet, with four full days featuring inspiring keynotes, 90+ business and technical presentation sessions, Vision Technology workshops, a full day of hands-on TensorFlow training, plus our largest-ever Vision Technology Showcase.
We're honored to have two industry luminaries giving our keynote presentations this year. Dr. Takeo Kanade, one of the world's foremost researchers in computer vision and robotics, will share his experiences developing a vast range of pioneering computer systems and autonomous robots in his presentation "Think Like an Amateur, Do as an Expert: Lessons from a Career in Computer Vision". And legendary inventor Dean Kamen will explain why he believes the time is right for computer vision to be used everywhere in his presentation "From Mobility to Medicine: Vision Enables the Next Generation of Innovation".
We'll be announcing our Vision Product of the Year Award winners at the Summit for the first time this year. These annual awards recognize the innovation and achievement of the industry's leading technology, service and end-product companies who are enabling the next generation of practical applications for computer vision. And of course, you won't want to miss the Vision Tank, our start-up competition where the five finalists pitch their products to our expert panel of judges—and the audience—to win the grand prize! This year's finalists are AiFi, Aquifi, Boulder AI, Sturfee and VirtuSense Technologies.

We've brought back our popular Vision Entrepreneurs' Panel, which brings together an amazing group of visionary leaders who have conceived and scaled vision-based businesses. Sharing their failures as well as their successes, along with key lessons learned, these successful entrepreneurs will "pay it forward"—helping to enable the next generation of vision-based start-ups. Plus, we have an amazing selection of Executive Perspectives talks lined up, with leaders from Basler, Horizon Robotics, Intel, NovuMind and Xilinx sharing their views on key opportunities and challenges in computer vision applications and technologies.
To kick off the Summit, we're offering our highly rated TensorFlow training class. Deep Learning for Computer Vision with TensorFlow provides the hands-on knowledge you need to develop deep learning computer vision applications—both on embedded systems and in the cloud—with TensorFlow, one of today's most popular frameworks for deep learning.
And once again, we're dedicating the final day of the Summit to Vision Technology Workshops, which are presented by experienced engineers from our Member companies. "Optimized Inference at the Edge with Intel" has already sold out, and there are only a few seats available for "Khronos Standards for Neural Networks" and Synopsys' "Embedded Vision and Artificial Intelligence from Concept to Implementation", so don't delay!
The bottom line is simple: If you're working in computer vision, you simply cannot afford to miss this event

.
Time is running out, and the Embedded Vision Summit is almost sold out, so check out the full schedule and register now before it's too late!
See you at the Summit!
Brian Dipert
Editor-In-Chief, Embedded Vision Alliance