8tree's dentCHECK is the 2018 Vision Product of the Year Award Winner in the End Products category. dentCHECK is a 3D optical scanner (vision system) that is a purpose-built tool for the aviation maintenance industry. dentCHECK has been approved by Airbus, backed by Boeing & is being adopted by leading commercial airlines and maintenance, repair and overhaul (MRO) organizations. Additionally, aircraft OEMs are now implementing dentCHECK for airframe inspections on the flightline. The tool is delivering >90% efficiency gains vs. traditional manual measurement methods.
"We are honored by the Embedded Vision Alliance's recognition of our dentCHECK optical inspection tool. We created dentCHECK in response to a chronic problem within the aviation maintenance sector. It is very gratifying to see the 90%+ efficiency gains that dentCHECK is delivering to airlines, MROs and OEMs. As it sets a new standard for damage measurement accuracy and repeatability, dentCHECK also empowers technicians and structures engineers with an improved understanding of airframe reliability."
Arun Chhabra, CEO, 8tree
8tree makes portable 3D surface inspection tools that deliver dent-mapping, blend-out, fastener-flushness and panel-alignment results within seconds. These vision-based products integrate 8tree's patented technology which combines extremely accurate high-speed 3D measurement and handheld-portability to deliver objectively consistent answers which are visually projected on the surface using augmented reality (AR). Simple 1-button operation empowers operators with instantly actionable 'go/no-go' results that boost workflow efficiency and reduce human error. Each 8tree product is push-button operator-friendly, fully self-contained and designed for use in the field and on the maintenance floor – no programming, no wires, no mess. 8tree's dentCHECK® product is now listed in Airbus tool manuals, and is used by several airlines and MROs worldwide for enhancing airframe maintenance. Their fastCHECK® product is used by aerospace OEMs/Tier-1s to boost the inspection efficiency of rivet-flushness on new aircraft, thereby reducing aerodynamic drag. To learn more about 8tree, please visit www.8tree.com.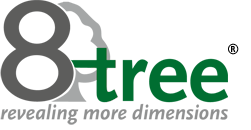 ---
Applications for the 2019 Vision Product of the Year Awards are now being accepted, until March 8, 2019. If you're an employee of an Embedded Vision Alliance member company, please see here for an online application form. If you're interested in becoming a member of the Embedded Vision Alliance, please see here for more information!