This class is redesigned and updated to include the latest version of TensorFlow, including the use of the Keras framework for rapid development and testing of neural networks!
Registration will be available shortly.  Please check back soon!
Are you an engineer who wants to design intelligent computer vision systems that learn from complex or large-scale datasets?
Get the hands-on knowledge you need to develop deep learning computer vision applications—both on embedded systems and in the cloud—with TensorFlow, today's most popular framework for deep learning.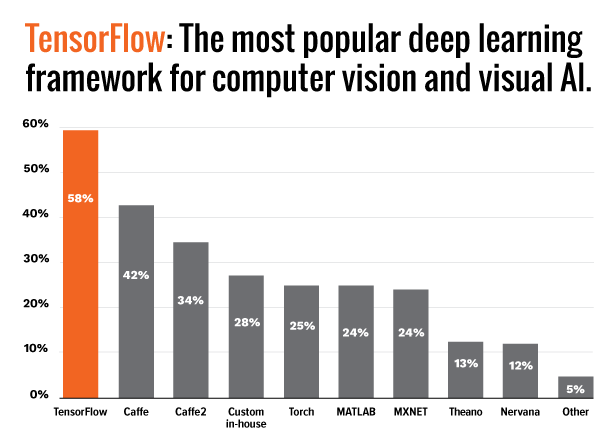 Get a rapid hands-on introduction to TensorFlow in our single-day course. We can help you get the skills you need.
Our one-day program will provide you with a hands-on overview of deep learning applications of TensorFlow.
Agenda: The class is conducted in both in-person and virtual environments and runs from 9 am to 5 pm with lunch and breaks. The class is a combination of lecture and lab exercises using Jupyter Notebooks. We cover the following topics:
Introduction to AI, machine learning and TensorFlow 2.0
Neural networks in TensorFlow

Linear regression
Shallow image recognition
Convolutional neural networks

Data set creation and augmentaion
Of-the-shelf network architectures; transfer learning
Object detection
Looking forward
Prerequisites
The class covers deep learning for computer vision applications using TensorFlow 2.0. We assume that:
You know the basics of deep learning algorithms and concepts for computer vision, including convolutional neural networks.
You know the basics of the Python programming language.
You do not know TensorFlow or TensorFlow 2.0.
To make sure you're up to speed on Python, please review sections 1-5 of this online Python tutorial before class: https://docs.python.org/3/tutorial/.
Additional training dates and locations will be announced soon!
Sign up to receive updates on future trainings.