In this edition of Embedded Vision Insights:
LETTER FROM THE EDITOR
Dear Colleague,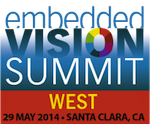 Preparations for the May 29th Embedded Vision Summit West in Santa Clara are progressing rapidly. We're pleased to announce that the Summit will feature presentations by top-rated speakers, including Francis MacDougall of Qualcomm on gesture interfaces and Simon Morris of CogniVue on recognition and classification in augmented reality. Check out the published abstracts on the Summit Presentations page. Personally, I am also looking forward to the morning keynote by Yann LeCun of Facebook and the afternoon keynote by Nathaniel Fairfield of Google.
I'm also happy to be able to tell you about two technical workshops that will take place on May 28, the day before the Summit. The first, from Alliance founding member BDTI, takes place from 9:00 AM to 3:00 PM and is entitled "Implementing Computer Vision and Embedded Vision: A Technical Introduction". It will provide a practical tutorial on processors, sensors, tools, and development techniques for vision-based application and system design, including OpenCV and OpenCL. The second, occurring from 7:30 AM to 2:00 PM that same day, is co-presented by BDTI and fellow Alliance members Analog Devices and Avnet Electronics. It will explore hardware and software for image processing and video analytics in a hands-on fashion, featuring the Avnet/Analog Devices Embedded Vision Starter Kit.
Online registration for the Embedded Vision Summit West is now available, along with travel and housing information. Last year's Summit sold out, so I encourage you to sign up right away before all of the attendance slots are filled. And while you're on the Alliance website, make sure you check out all the new content published there the last two weeks; tutorial and demonstration videos from NVIDIA and Xilinx, news writeups on vision-centric smartphones from Google and HTC, a press release from CEVA, and a plethora of market analysis report summaries. Thanks as always for your support of the Embedded Vision Alliance, and for your interest in and contributions to embedded vision technologies, products and applications. Whenever you come up with an idea as to how the Alliance can better service your needs, you know where to find me.
Brian Dipert
Editor-In-Chief, Embedded Vision Alliance
FEATURED VIDEOS
Stereo Vision for 3D Depth Perception


Jeff Bier, founder of the Embedded Vision Alliance, interviews Goksel Dedeoglu, Founder and Lab Director of PercepTonic, and former Manager of Embedded Vision R&D at Texas Instruments. Beginning with a hands-on demonstration of TI's real-time stereo vision prototype on the C6678 Keystone DSP, Jeff and Goksel touch upon various trade-offs in designing a stereo depth camera: the separation between the sensors, image resolution, field-of-view, and finally, the specific requirements of the application domain. Demonstrating 1080p HD resolution disparity computation at 15 frames per second, Goksel shares how depth information can help detect obstacles for automotive safety, and his experiences on TI System-On-Chips ranging from OMAP and DaVinci application processors all the way to Keystone multicore DSP devices.
Embedded Vision Summit Technical Presentation: "Algorithms for Object Detection and Tracking," Tim Jones, MathWorks


Tim Jones, principal application engineer at MathWorks, presents the "Algorithms for Object Detection and Tracking" tutorial within the "Using Vision Algorithms" technical session at the April 2013 Embedded Vision Summit.
FEATURED ARTICLES
Volgograd Train Station Bombing Highlights Need for More Rail Security


The recent train station bombing in Volgograd Russia has once again focused attention on the vulnerabilities of rail infrastructure. According to a recently published report by IHS, purchases of explosives, weapons, and contraband (EWC) detection equipment at rail stations worldwide is expected to increase by 3.3% in 2014, and 8.8% in 2015. A large amount of this growth is expected to come from Asia where rail expansion projects are ongoing. As these rail project near completion IHS expects to see an increase in purchases of explosives detection equipment. More
Critical Infrastructure Helps Stabilize Perimeter Security Industry
Although most critical infrastructure sites are target applications for electronic perimeter security, electrical utilities and oil refineries are projected to have the most growth opportunity. The global market size for electronic perimeter security sensors and video in electrical utilities and oil refineries is forecast to top $160 million in 2014. Electrical utilities have experienced strong growth despite the economic slowdown in 2011 and 2012. Part of this growth is resulting from the trend to use remote video and networked sensors in order to configure and maintain sensors from remote locations. Another driver is the updates to the NERC CIP standards which are mostly concerned with cyber security and classifying / identifying critical assets. More
FEATURED COMMUNITY DISCUSSIONS
Which Tool Do You Use for HW/SW Partitioning Tasks?
FEATURED NEWS
Google's Project Tango: 3D Mapping Gets Personal

CEVA, SMIC and Brite Semiconductor Partner to Provide Hard Macro Versions of CEVA DSP Cores and Platforms
The HTC "M8": Will Fuller-Featured Depth Sensing Be Worth The Smartphone Wait?