LETTER FROM THE EDITOR
Dear Colleague,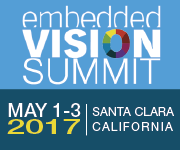 If you're creating systems that see, the Embedded Vision Summit is the place to be! Plan now to join us May 1-3, 2017 in Santa Clara as stakeholders from every corner of the world's embedded vision ecosystem gather to examine the latest advances in computer vision, machine learning, and embedded intelligence.
Super Earlybird registration rates are available for a limited time only using discount code nlevi0103, so register now to secure your place.
Attend and take a deep dive into the latest innovations in computer vision enablement — from processors and algorithms to software, sensors, and development tools and services. Meet the top technologists in this fast-growing field and network with the product and system design engineers, business leaders, suppliers, market analysts, entrepreneurs, and investors at the forefront of vision-based intelligence.
Key themes at this year's Summit include:
Embedded vision applications

, including autonomous vehicles, VR/AR, robotics, drones, security and surveillance, medical/healthcare, consumer electronics, manufacturing and control automation, and more.

Embedded vision design and development techniques

, including algorithms (e.g.: deep learning/CNNs), 3D perception, object/gesture recognition, low-power design options, hardware and component design/selection, deployment and scalability considerations, etc.

Embedded vision business opportunities

, including market research, business models, investment trends, and other profit-building insights.
Immerse yourself in the Summit's multi-track conference program, which takes you on a deep dive into the technical- and engineering-related underpinnings of embedded vision and examines the exciting new business opportunities it presents. Participate in a variety of technical tutorials and hands-on sessions, and explore the Technology Showcase to see what's new and what's next in embedded vision.
Register now using discount code nlevi0103 and save! We look forward to seeing you there.
Brian Dipert
Editor-In-Chief, Embedded Vision Alliance
OPEN STANDARDS FOR VISION
Developing High-Performance, Energy-Efficient Vision Solutions Using Open-Standard Libraries and APIs


Connected cameras, hand-held devices, embedded systems, and cloud services enable a world of intelligence everywhere. But to realize the potential of computer vision technology, developers face tough challenges. On the one hand, complex products must be brought to market quickly. On the other hand, computer vision applications demand both high performance and extreme energy-efficiency. Open standard libraries and APIs like OpenCL, OpenVX, and OpenCV offer the promise of faster and easier development. But can these libraries and APIs also enable high-performance, energy-efficient implementations? In this presentation, Mostafa Hagog, Architect at Intel, highlights which aspects of vision software development tend to be similar across different types of platforms (e.g., mobile vs. cloud) and which tend to be different—and why. Using real-world examples, he explores how open standard libraries and APIs can be used to speed application development while minimizing loss of performance and energy efficiency—or in some cases, even improving them.
OpenCV for Embedded: Lessons Learned


OpenCV is the most widely used software component library for computer vision. Initially used mainly for algorithm development and prototyping, in recent years OpenCV has also been used extensively for implementation and deployment of vision applications, including many mobile and embedded applications. Today, OpenCV runs on a wide range of operating systems including embedded Linux, Android, iOS, Windows Phone, and QNX. This talk from Yury Gorbachev, Principal Engineer at Itseez (now part of Intel), addresses several critical topics related to OpenCV in embedded systems, including cross-platform development best practices, performance profiling, benchmarking, and automated regression testing. Gorbachev presents several real-world automotive use cases and the key lessons learned from them..
ADAS AND AUTONOMOUS VEHICLES
Will Computer Vision Upend the Automotive Industry?


"Last month," writes Embedded Vision Alliance founder Jeff Bier, "Google announced the spin-off of its self-driving car project into a stand-alone business. Will Google become a major player in the automotive industry? Today, that idea seems far-fetched. On the other hand, 15 years ago Apple was a personal computer company, and few would have guessed that it would eventually become a dominant player in consumer electronics and photography. The Google announcement resonated with me in light of a fascinating recent presentation by Mark Bunger of Lux Research. In Mark's view, computer vision isn't going to merely make cars better, it's going to completely transform the automotive industry. In the process, current automotive giants may be displaced by companies that aren't even players in the industry today. If you're skeptical that titans like Ford, Toyota and BMW could be displaced by companies like Google and Uber, consider that new technologies frequently transform industries." More
Advanced Driver Assistance System Component Shipments to Reach 1.2 Billion Units Annually by 2025


The market for advanced driver assistance systems (ADAS) is on the verge of a tipping point, according to Tractica principal analyst Keith Kirkpatrick. Driven largely by a quest for improved safety, either via government mandates or a desire to receive top-tier crashworthiness ratings, automakers are rapidly incorporating new technologies and systems that are designed to help drivers avoid accidents by improving their situational awareness, improving reaction times, or enhancing the vehicle's response to adverse conditions. Automotive sensors, processors and other components enabling advanced vision, awareness, and emergency response systems will experience strong growth as automakers embrace these systems for improved safety and vehicle autonomy. More
UPCOMING INDUSTRY EVENTS
Cadence Embedded Neural Network Summit – Deep Learning: The New Moore's Law: February 1, 2017, San Jose, California
Embedded World Conference: March 14-16, 2017, Messezentrum Nuremberg, Germany
Embedded Vision Summit: May 1-3, 2017, Santa Clara, California
FEATURED COMMUNITY DISCUSSIONS
Computer Vision Engineer – Robotics
FEATURED NEWS
CEVA Brings its Leading-Edge Solutions for Smarter, Connected Devices to CES
FotoNation and VeriSilicon Collaborate on Next Generation, Advanced Computer Vision and Computational Imaging Platform
Out Now: Allied Vision Manta G-895 with 8.9 Megapixel Sony CMOS Sensor
Basler Will Demonstrate The Power Of Image Optimization