LETTER FROM THE EDITOR
Dear Colleague,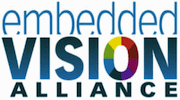 The Embedded Vision Alliance is performing research to better understand what types of technologies are needed by developers who are incorporating computer vision in new systems and applications. To help guide suppliers in creating the technologies that will be most useful to you, please take a few minutes to fill out this brief survey. As our way of saying thanks, we'll enter you in a drawing for several cool goodies, and you'll also get a $50-off promotional code for Early Bird 2-Day Pass registration at the 2017 Embedded Vision Summit!
Speaking of the Embedded Vision Summit…computer vision is creating exciting new opportunities across a variety of industries, ranging from healthcare to robotics. Every new venture has risks and challenges, and building a business based on vision brings its own special challenges. Whether you're working in a start-up or an established company, as an engineer, entrepreneur, investor or executive, the more you know about these risks and how others have navigated them, the better you can plot a successful course. That's why we're pleased to announce a new Vision Entrepreneurs' Panel, aimed at helping you develop a winning strategy. The panel will take place on Monday, May 1st at the Embedded Vision Summit and should not be missed!
This Vision Entrepreneurs' Panel brings together an amazing group of innovators who have conceived and grown their businesses to multi-hundred-million dollar valuations. Moderator Chris Rowen (CEO, Cognite Ventures) and panelists Mark Bowles (entrepreneur and former CEO, ecoATM), Remi El-Ouazzane (CEO, Movidius – now part of Intel), and Michael Tusch (CEO, Apical Limited – now part of ARM) will give you first-hand insights into how they successfully navigated the journey from idea to deployment at scale, with an eye towards enabling the next generation of vision-based startup leaders. Register for the Embedded Vision Summit now using promotional code nlevi0214 and save 15%! (We've also reserved a block of discounted rooms at the Santa Clara Hyatt Regency – book your room now – offer expires April 10th.)
Brian Dipert
Editor-In-Chief, Embedded Vision Alliance
INVESTOR AND TECHNOLOGY PERSPECTIVES
Computer Vision 2.0: Where We Are and Where We're Going


Computer vision has rapidly transitioned from a research topic with few commercial applications to a mainstream technology with applications in virtually every sector of our economy. But what we are seeing today is just the beginning. In this presentation, Embedded Vision Alliance founder Jeff Bier presents an insider's view of the state of computer vision technology and applications today, and predictions on how the field will evolve in the next few years. Bier explores the impact of game-changing technologies such as deep neural networks, ultra-low-power processors, and cloud-based vision services. He highlights new products and applications that illuminate what we can expect from visually intelligent devices in the near future.
What's Hot in Embedded Vision for Investors?


This panel discussion moderated by Jeff Bier addresses emerging opportunities in embedded vision from an investor's perspective. The panel includes venture capitalists, investment bankers, mergers and acquisition specialists, and entrepreneurs: Don Faria of Intel Capital, Jeff Hennig of Bank of America Merrill Lynch, Gabriele Jansen of Vision Ventures, Helge Seetzen of TandemLaunch, and Peter Shannon of Firelake Capital Management. Panelists discuss the embedded vision technology and companies they are investing in or are looking to invest in, and share their advice for companies and executive teams on how to approach investors, secure funding, build a successful business and secure a successful exit.
INDUSTRY STANDARDS AND OPTIMIZATIONS
The OpenCV Open Source Computer Vision Library: What's New and What's Coming?


OpenCV is an enormously popular open source computer vision library, with over 14 million cumulative downloads and more than two hundred thousand downloads per month. Originally used mainly for research and prototyping, in recent years OpenCV has increasingly been used in deployed products on a wide range of platforms from cloud to mobile. OpenCV version 3.0, released in mid-2015, was a major overhaul, bringing OpenCV up to modern C++ standards and incorporating expanded support for 3D vision and augmented reality. More recently, versions 3.1 and 3.2 have introduced support for deep neural networks, as well as new and improved algorithms for important functions such as calibration, optical flow, image filtering, segmentation and feature detection. In this talk, Gary Bradski, head of the OpenCV Foundation, provides an insider's perspective on the new version of OpenCV and how developers can utilize it to maximum advantage for vision research, prototyping, and product development. Gary also offers a sneak peek into where OpenCV is headed next.
ARM Guides to OpenCL Optimizations


A series of technical reference manuals, published by ARM in partnership with the Embedded Vision Alliance, explains how to leverage the OpenCL heterogeneous processing API along with GPU acceleration to optimize commonly used vision processing algorithms: convolution (important in image processing, particularly useful in filtering), Canny edge detection (which extracts high-quality edges from images), and pyramid (which produces a set of subsampled images), using an ARM Mali Midgard GPU. Each reference manual includes introductory background information, reference implementations, optimization techniques, and test methods; reference code and file download links are also provided.
UPCOMING INDUSTRY EVENTS
Bay Area Computer Vision and Deep Learning Meetup Group: March 7, 2017, Mountain View, California
Embedded World Conference: March 14-16, 2017, Messezentrum Nuremberg, Germany
Embedded Vision Summit: May 1-3, 2017, Santa Clara, California
Sensors Expo & Conference: June 27-29, 2017, San Jose, California
FEATURED NEWS
NVIDIA, Audi Partner to Put World's Most Advanced AI Car on Road by 2020
Visual Processing Market Poised to Take Off
Qualcomm and ODG Announce the First Augmented Reality Smartglasses Powered by the New Snapdragon 835 Processor
Microsoft, NXP Semiconductors, IAV and Auto Mobility Partners Showcase Innovations for Safe, Secure and Personalized Automated Driving
Thundersoft's Acquisition of Rightware Strengthens Their Leading Positions in the Fast-growing Market for Connected Car Software