LETTER FROM THE EDITOR
Dear Colleague,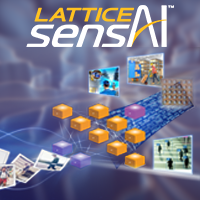 Next month, Lattice Semiconductor will deliver the free webinar "Delivering Milliwatt AI to the Edge with Ultra-Low Power FPGAs" in partnership with the Embedded Vision Alliance. Low power FPGAs are well suited for implementing machine learning inferencing at the edge, given their inherent parallel architecture along with the ability to adapt to evolving deep learning algorithms and architectures. Lattice's iCE40 UltraPlus and ECP5 product families support development of edge AI solutions that consume from 1 mW to 1 W on compact hardware platforms. To accelerate development, Lattice has also brought together the award-winning sensAI stack, which gives designers all of the tools they need to develop low power, high performance edge devices. Two webinar sessions will be offered: the first will take place at 11 am Pacific Time (2 pm Eastern Time) on November 19, timed for attendees in the Americas, while the second, at 6 am Pacific Time (2 pm Central European Time) on November 21, is intended for attendees in Europe. To register, please see the event page for the session you're interested in.
Alliance Member company Jon Peddie Research (JPR) is conducting a survey on the use of and interest in Linux, and would greatly appreciate your opinions and comments. The survey will take less than four minutes and, in exchange for your time, JPR will provide you with a free summary of its findings. Start the survey.
Brian Dipert
Editor-In-Chief, Embedded Vision Alliance
SECURE VISUAL AI IMPLEMENTATIONS
Using Blockchain to Create Trusted Embedded Vision Systems


In many IoT architectures, sensor data must be passed to cloud services for further processing. Traditionally, "trusted third parties" have been used to secure this data. In this talk, Thies Möller, Technical Architect at Basler, explores an alternative approach: the use of a blockchain network structure, which can reduce operating costs and help keep systems verifiable and trustworthy. Using the Ethereum blockchain as an example, he illustrates a technique to keep the system free from "trusted third-parties" and examines real-world example applications, such as trusted temperature-controlled supply chains and facial-recognition-based payment systems.
An Ultra-low-power Multi-core Engine for Inference on Encrypted DNNs


Neural network encryption is a useful method to secure a company's IP. This presentation from Petronel Bigioi, CTO for Imaging at Xperi, focuses on the design details of an ultra-low-power, scalable neural network core capable of performing inference on encrypted neural networks. Decryption of the neural network weights and topology takes place inside the core, avoiding the need for decrypted networks to be present at any time in main memory. Bigioi also discusses solutions clustering together multiple neural network cores to meet the neural inference processing requirements of a target SoC platform.
SITE SURVEY INDUSTRY APPLICATIONS
Challenges and Approaches for Extracting Meaning from Satellite Imagery


Orbital Insight is a geospatial big data company leveraging the rapidly growing availability of satellite, UAV and other geospatial data sources to understand and characterize socioeconomic trends at global, regional and hyper-local scales. The company uses recent advances in deep learning and cloud computing to process and understand the information available in millions of images. In this talk, Deep Learning Engineer Adam Kraft explores three sets of technical challenges the company had to overcome to develop a robust solution. First, he discusses challenges associated with fusing data that can come from different types of image sensors as well as different ground truth measurement sources. Next, he explores challenges related to detecting trends and analyzing changes in imagery over time. Finally, he examines challenges involved in choosing the right machine learning methods for the task at hand.
Mining Site Data Extraction Using 3D Machine Learning


This talk from Ravi Sahu, Founder and CEO of Strayos, focuses on extracting invariant features for segmentation of 3D models of mining sites. The image data is generated by stitching together geo-tagged images from a drone. The 3D model is then generated by applying stereo reconstruction using structure from motion. This reconstruction gives a dense 3D model with RGB data corresponding to the point cloud. There are a limited number of features for point clouds. The mining site terrain are mountainous in nature and thus the image loses a lot of information even within the RGB space. In this presentation, Sahu discusses ways to best utilize both 3D and RGB data to extract features with high discriminability and invariance using machine learning. This approach shows accurate segmentation of mining sites. A segmented site can be used to provide key insights, such as ore deposit locations, drill hole deviations and safety and hazard warnings.
UPCOMING INDUSTRY EVENTS
Embedded Vision Alliance Webinar – Key Trends in the Deployment of Visual AI: October 16, 2019, 9:00 am PT and 6:00 pm PT
Technical Training Class – Deep Learning for Computer Vision with TensorFlow 2.0: November 1, 2019, Fremont, California
Renesas Webinar – Renesas' Dynamically Reconfigurable Processor (DRP) Technology Enables a Hybrid Approach for Embedded Vision Solutions: November 13, 2019, 10:00 am PT
Lattice Semiconductor Webinar – Delivering Milliwatt AI to the Edge with Ultra-Low Power FPGAs: November 19, 2019, 11:00 am PT and November 21, 2019, 6:00 am PT
Embedded AI Summit: December 6-8, 2019, Shenzhen, China
Embedded Vision Summit: May 18-21, 2020, Santa Clara, California
VISION PRODUCT OF THE YEAR SHOWCASE
MediaTek Helio P90 Chipset (Best AI Technology)


MediaTek's Helio P90 chipset is the 2019 Vision Product of the Year Award Winner in the AI Technology category. The MediaTek Helio P90 is an AI processing powerhouse, boasting the latest AI Processing Unit 2.0. With a leading fusion AI architecture of an in-house AI accelerator and an off-the-shelf DSP, the Helio P90 handles complex AI apps and tasks while running multiple AI functions simultaneously. It accomplishes this multitasking extraordinarily fast, with 4.6 times more performance and 50% lower power than Helio P60 and P70, breezing through any task with extreme power efficiency. The Helio P90 also offers "intelligent imaging" via an industry-first 3x ISP AI camera that can surpass traditional computer vision algorithms, such as unlocking smartphones with secure and fast facial recognition. AI adds beautification to images, including real-time face beautification in video. The Helio P90 facilitates capturing incredible detail on either dual camera arrays or a single camera setup. And intelligent environmental awareness gives faster exposure control, AI noise reduction, and an AI depth map to never miss a moment.
Please see here for more information on MediaTek and its Helio P90 chipset product. The Vision Product of the Year Awards are open to Member companies of the Embedded Vision Alliance and celebrate the innovation of the industry's leading companies that are developing and enabling the next generation of computer vision products. Winning a Vision Product of the Year award recognizes leadership in computer vision as evaluated by independent industry experts.
FEATURED NEWS
Intel Ships Stratix 10 DX FPGAs; VMware Among Early Partners
Prophesee Introduces the First Event-based Vision Sensor In an Industry-standard, Cost-efficient Package
OmniVision's Automotive SoC for Rear and Surround View Cameras Offers the Industry's Best Low-Light Performance, Lowest Power and Smallest Size
Synopsys' New Embedded Vision Processor IP Delivers Industry-Leading 35 TOPS Performance for Artificial Intelligence SoCs
Mindtech Introduce Chameleon Synthetic Data Generator and AI Tools for Effective Training of AI-based Solutions