This blog post was originally published at e-con Systems' website. It is reprinted here with the permission of e-con Systems.
Surveillance, inspection, and monitoring applications inevitably deal with poor light conditions – causing noise and loss of detail while capturing images. See what applications need low-light cameras and get a full understanding of how to select the ideal low-light camera.
Low light imaging has been a thorn on the side of embedded vision applications – especially in surveillance, inspection, and monitoring where poor light conditions are inevitable. In the past, images captured under such conditions were unclear and came with a lot of noise and detail loss. Due to the development in sensor and embedded vision technology, low-light camera modules can capture images under faint light sources or even during the night.
In this article, we will look at some of the most popular embedded vision applications that require a low-light camera. You will also develop a deep understanding of why using a camera with low light performance is critical in these applications.
What is low-light performance?
First let us try to understand, what low light performance is.
Low light performance is the ability of a camera to provide clear images in low light conditions by preserving details and minimizing noise in the output image. A sample comparison image taken using a low-light camera and a smartphone camera is shown below.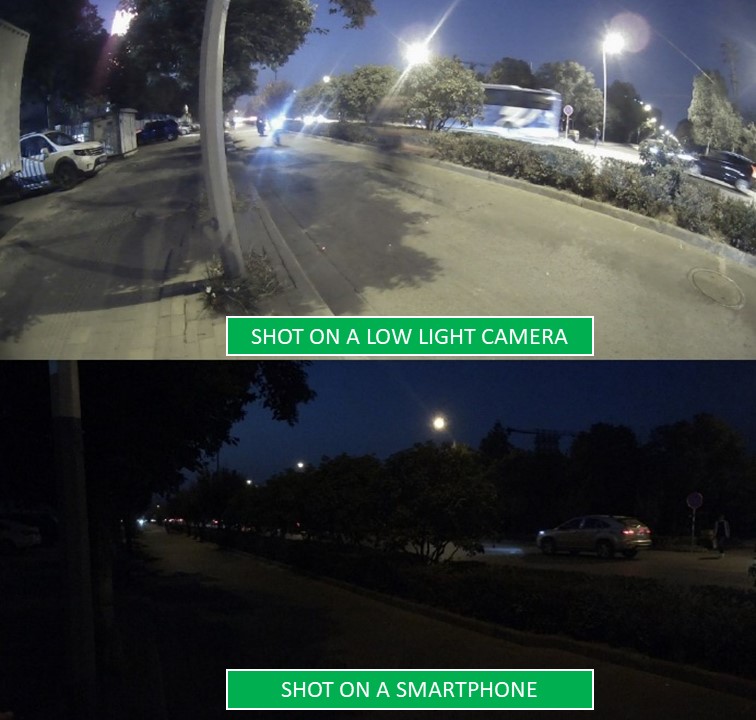 Figure 1: Comparison of smart phone camera and low-light camera outputs
Factors contributing to the low-light performance of a camera
There are predominantly 4 factors that contribute to the low light performance of a camera.
Pixel size
Signal to Noise Ratio (SNR)
Lens aperture
Sensitivity
To read more about these factors and how they impact the performance of a camera, please have a look at the article 4 major factors that determine the low light performance of a camera.
Now, let us discuss the applications that require a low-light camera.
Key modern embedded vision applications that require low-light cameras
There are numerous applications in embedded vision that require the camera to have low light performance capability. There are niche applications emerging almost every day. Here, we look at some of the most common and popular camera-based applications and devices that operate in a low-light environment.
Smart surveillance systems
Low-light cameras are used in high-end surveillance applications, especially for monitoring large infrastructure, because of their ability to capture, process, and analyse images at the edge. They are equipped with advanced low-light functionalities to view better in dark conditions and provide superior images – even when the light intensity is as low as 0.004 Lux or 0.0001 Lux (depending on the type of camera sensor). For instance, e-con Systems offers many cameras for smart surveillance that come with high sensitivity and SNR (Signal to Noise Ratio). We even have a specialized portfolio of cameras called night vision USB cameras that is designed particularly for night vision applications.
Autonomous mobile robots and vehicles
Many autonomous mobile robots and vehicles need to detect objects in low-light conditions. A patrol robot operating in the night, a goods to person robot working under limited light supply in a warehouse, a harvesting robot that plucks fruits in a greenhouse setting, etc are all examples of such applications. For these applications, low light embedded cameras are recommended. Also, cameras with low light performance are equipped to deliver high quality images during adverse weather conditions – that restrict the availability of light – such as rain, fog, snow, etc. e-con's wide portfolio of cameras for autonomous mobile robots comes with superior low light performance in addition to having IP rated enclosure protection.
Historically, this process has been manually done by sorting food along the conveyor belt to ensure that only high-quality produce reaches the stores. But this process leads to manual errors, productivity issues, and high labour costs. With advancements in embedded vision technology, it has become much easier to detect food quality issues during the inspection process. And many of these cameras have to operate 24×7 which demands them to be low light friendly. For example, e‑CAM221_CUMI462_MOD from e-con Systems (Sony STARVIS IMX462 ultra-low light camera module) comes with high quantum efficiency in both the visible and NIR spectrums. This ensures excellent low light performance, which in turn makes it perfectly suitable for food quality inspection.
Drones
These days, several drones come equipped with high-quality cameras capable of night-time videography and photography. These cameras have a large lens and a CMOS sensor with a variable aperture typically ranging from f/2.8 to f/11. So, they can capture a 360 degree image of an area at the available light conditions while at the same time preventing over-exposed scenes.
Smart traffic monitoring
Though all smart traffic management systems do not need a low light camera, those which operate in the night and in areas where the light supply is limited do demand a high sensitivity camera. In order to read license plates, monitor the crowd, or detect the faces of passengers in a vehicle under restricted lighting, a low light camera module is always recommended. e-con Systems' portfolio of cameras for smart traffic monitoring includes solutions that offer superior low light performance and night vision capabilities.
What are the low-light cameras offered by e-con Systems?
At e-con Systems, we offer a wide range of low-light cameras. With 18+ years of experience and expertise in embedded vision, we have built a wide portfolio of low light camera modules compatible with all the popular processing platforms. They include:
If you are interested in integrating a high-quality low-light camera into your product, please write to camerasolutions@e‑consystems.com. Meanwhile, you can visit our Camera Selector to have a look at our wide portfolio of low light as well as other cameras.
Suresh Madhu
Product Marketing Manager, e-con Systems