LETTER FROM THE EDITOR
Dear Colleague,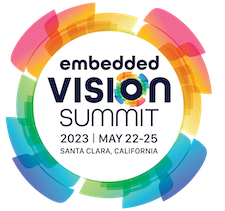 Registration is now open for the 2023 Embedded Vision Summit, coming up May 22-25, 2023 in Santa Clara, California! The Summit is the premier conference and tradeshow for innovators incorporating computer vision and visual or perceptual AI in products. The program is designed to cover the most important technical and business aspects of practical computer vision, deep learning and perceptual AI. Register before December 31 and you can save 35%—the best price you'll ever be able to get on the Summit!
We're currently creating the presentation program for the Summit, and we invite you to share your expertise and experience with peers at this premier event! To learn more about the topics we're focusing on this year and to submit your idea for a presentation, check out the Summit Call for Proposals or contact us at [email protected]. We will be accepting session proposals through December 7, 2022, but space is limited, so submit soon!
---
On Tuesday, February 7, 2023 at 9 am PT, Hailo will deliver the free webinar "Implementing Advanced AI-based Analytics for Video Management Systems" in partnership with the Edge AI and Vision Alliance. The term video management systems (VMS) encompasses all software elements involved in handling multiple video channels at scale in a variety of applications: surveillance, smart cities, retail, etc. Recent developments in VMS solutions, such as the migration to high-resolution smart cameras as well as the introduction of advanced video analytics software, require VMS providers to integrate high-performance computing and artificial intelligence (AI) capabilities into their products.
Hailo supplies top-performing AI accelerators to enable accurate, real-time analytics for detection and search on cameras and other edge devices, even at high resolutions and frame rates. The company's comprehensive software suite supports a wide range of platforms, operating systems, and neural network models, enabling easy integration into all video management systems. The result is higher accuracy and lower latency with lower cost of ownership–all of which translate into enhanced safety and better service in surveillance and smart city applications, along with improved customer service in retail applications.
In this webinar, Avi Baum, CTO, and Mark Grobman, Machine Learning CTO, both of Hailo, will explore various VMS system configurations where analytics play a role. The presenters will describe how to implement the enhanced capabilities enabled by Hailo processors and software, along with detailing performance metrics. Baum and Grobman will also address emerging trends in machine learning related to video analytics, which promise to unlock even more capabilities. A question-and-answer session will follow the presentation. For more information and to register, please see the event page.
Brian Dipert
Editor-In-Chief, Edge AI and Vision Alliance
DESIGNING ROBUST EDGE IMPLEMENTATIONS
Seamless Deployment of Multimedia and Machine Learning Applications at the Edge


There has been an explosion of opportunities for edge compute solutions across the internet of things. This growth in opportunities and the diversity of applications is leading to fragmentation in the IoT space both in hardware and software, which creates challenges for developers. In addition, customers and developers are facing challenges in efficient data management and optimized application deployment on embedded edge platforms. In this presentation, Megha Daga, Senior Director of Product Management for AIoT at Qualcomm, introduces the Qualcomm Intelligent Multimedia SDK, which empowers developers to tackle these challenges and deploy edge compute applications in a scalable, flexible and optimized way. The Qualcomm Intelligent Multimedia SDK easily decodes and organizes sensor data and executes applications efficiently on edge platforms.
Developing Sustainable Edge AI Products for the Real World


For edge AI systems to succeed in the real world, they must be adaptable. They must adapt as customer requirements change, as their environments evolve and as AI techniques advance. Creating adaptable edge AI systems requires a holistic approach that encompasses efficient deep neural network inference and tools and techniques that enable effective testing, deployment and management of the edge AI device over its entire life cycle. This presentation explores this holistic approach and shows how Blaize enables developers to create adaptable, sustainable products for a diverse range of applications. Barrie Mullins, former Senior Director of Product Marketing at Blaize, introduces the Blaize Pathfinder and Blaize Xplorer accelerators, Blaize AI Studio (a code-free development environment), and Blaize Picasso SDK (a traditional software development kit for experienced engineers who want to get under the hood and customize their AI solutions). He also shows how these innovative offerings help quickly take edge AI products from idea to production.
SILICON, SOFTWARE AND SERVICES FOR RAPID DEPLOYMENTS
Converging AI, Media and Computing in a Compact and Open Platform


As a system integrator, solution provider or AI developer, you need to run your AI applications efficiently at the edge with sufficient throughput. Does your edge device run either generic computing or deep learning inferencing, but not both? The Intel Video AI Box with Core CPU and integrated Xe LP graphics offers a compact solution to run video AI analytics at the edge with the support to orchestrate AI applications and workloads in cloud-to-edge deployments. In this presentation, you'll learn about Intel's new platform, comprising an Intel CPU with integrated graphics and the Edge AI Box for Video Analytics software package, and how it enables developing cutting-edge video solutions faster. Richard Chuang, Principal AI Engineer at Intel, also explores EFLOW enablement on the platform, which allows Windows-based business applications to run rich Linux AI workload containers with Azure cloud connections for scalable deployments.
A Platform Approach to Developing Networked Visual AI Systems


Connected cameras are becoming ubiquitous. Coupled with CV and ML, they enable a growing range of applications that monitor people, facilities and other objects and environments. But creating robust, scalable applications requires more than connected cameras and algorithms. For example, applications require robust video storage management, including the ability to manage limited bandwidth and recover from hardware failures. In addition, applications often must be able to discover and interact with a variety of camera and stream types on a network. Applications also typically require media servers and clients that can run on mobile, desktop, server and cloud. And they need the ability to integrate with a variety of software stacks and ecosystems. In this presentation, Nathan Wheeler, Chairman and CEO, and Tony Luce, Vice President of Product Marketing, both of Network Optix, introduce the Nx Meta intelligent video platform, which enables developers to quickly create cross-platform networked visual AI solutions that incorporate device and stream discovery and interoperability, robust storage management and extensibility. They also show application examples.
UPCOMING INDUSTRY EVENTS
FEATURED NEWS
EDGE AI AND
VISION PRODUCT OF THE YEAR WINNER SHOWCASE
Grabango Checkout-free Technology (Best Enterprise Edge AI End Product)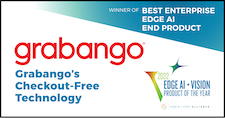 Grabango's Checkout-free Technology is the 2022 Edge AI and Vision Product of the Year Award winner in the Enterprise Edge AI End Product category. Grabango's system for existing, top-tier grocery and convenience stores is pure computer vision (CV), based on machine learning with targeted retrainings (AI). With a handful of other startups boasting a basic proof-of-concept here and there, Grabango has leapt ahead to announce 5 mature stores with Giant Eagle, 6 stores with Circle K, and 10 stores with bp, with additional announcements pending from two more convenience chains, and two major grocery chains. All of these stores are fast retrofits, serving the same customers as before installation. Since going live, Grabango remains the only provider delivering high-volume operations, in true retrofit settings, with exceptionally accurate receipts.
Please see here for more information on Grabango's Checkout-free Technology. The Edge AI and Vision Product of the Year Awards celebrate the innovation of the industry's leading companies that are developing and enabling the next generation of edge AI and computer vision products. Winning a Product of the Year award recognizes a company's leadership in edge AI and computer vision as evaluated by independent industry experts. The Edge AI and Vision Alliance is now accepting applications for the 2023 Awards competition; for more information and to enter, please see the program page.