IMPROVING VISION PRODUCT DEVELOPMENT
Five Things You Might Overlook on Your Next Vision-enabled Product Design


When you think about building a vision-enabled product, you probably think about things like: Which processor am I going to use? What neural network will it run? Where will I get the training data? These are important questions that need answers! But there are other, less obvious things that also require careful, early consideration in order to lay the groundwork for a successful product development. In this 2023 Embedded Vision Summit talk, Phil Lapsley, Co-founder and Vice President of BDTI, draws on his company's experiences building vision-enabled products for consumer and industrial applications to explore five critical areas that often get overlooked. These include engineering management topics, such as how to plan and manage ML model experiments; avoiding not-invented-here syndrome (e.g., leveraging existing frameworks vs. creating your own); and being realistic about what your vendors can and can't deliver (e.g., tools, drivers). They also include system architecture considerations, such as lighting, camera placement and dealing with memory constraints in cost-sensitive applications.
Incorporating Continuous User Feedback to Achieve Product Longevity in Chaotic Environments


In many computer vision applications, a key challenge is maintaining accuracy when the real world is changing. In this 2022 Embedded Vision Summit presentation, Erik Chelstad, CTO and Co-founder of Observa, explores techniques for designing hardware and software to stave off obsolescence by allowing users to interact with the output of the computer vision system as quickly and cheaply as possible, so that future errors are avoided. He also discusses ways to motivate users to provide useful feedback, and illustrates concepts using a deployed commercial application.
DEVELOPMENT TOOL ADVANCEMENTS
Accelerating Newer Machine Learning Models Using the Qualcomm AI Stack


The Qualcomm AI Stack revolutionizes how Qualcomm thinks about AI software and provides the ultimate tool and user interface to enable ecosystem partners to create faster and smarter AI applications for all embedded form factors. Focusing on real user experience challenges centered around model deployment, Vinesh Sukumar, Senior Director and Head of AI/ML Product Management at Qualcomm Technologies, explains in this 2023 Embedded Vision Summit presentation how the Snapdragon developer community leverages data types, quantization and neural architecture search—among others—to optimize complex AI architectures for emerging use cases.
Open Standards: Powering the Future of Embedded Vision


Open standards play an important role in enabling interoperability for efficient deployment of vision-based systems. In this 2022 Embedded Vision Summit session, Neil Trevett, President of the Khronos Group and Vice President of Developer Ecosystems at NVIDIA, shares an update on the family of Khronos Group standards for programming and deploying accelerated inferencing and embedded vision, including OpenCL, Vulkan Safety Critical, OpenVX, SYCL and NNEF. Trevett discusses the evolving roadmap for these standards and provides insights to help you understand which standards are relevant to your projects. In addition, he introduces the new Khronos Embedded Camera API initiative. Trevett outlines the technical direction of the Embedded Camera API working group to create an open standard to streamline the integration and control of sophisticated embedded camera systems, and highlights how attendees can participate in this important industry initiative.
UPCOMING INDUSTRY EVENTS
Embedded Vision Summit: May 7-9, 2024, Santa Clara, California
FEATURED NEWS
EDGE AI AND VISION PRODUCT OF THE YEAR WINNER SHOWCASE
Qualcomm Cognitive ISP (Best Camera or Sensor)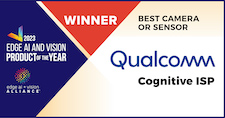 Qualcomm's Cognitive ISP is the 2023 Edge AI and Vision Product of the Year Award winner in the Cameras and Sensors category. The Cognitive ISP (within the Snapdragon 8 Gen 2 Mobile Platform) is the only ISP for smartphones that can apply the AI photo-editing technique called "Semantic Segmentation" in real-time. Semantic Segmentation is like "Photoshop layers," but handled completely within the ISP. It will turn great photos into spectacular photos. Since it's real-time, it's running while you're capturing photos and videos – or even before. You can see objects in the viewfinder being enhanced as you're getting ready to shoot. A real-time Segmentation Filter is groundbreaking. This means the camera is truly contextually aware of what it's seeing. Qualcomm achieved this by building a physical bridge between the ISP and the DSP – it's called "Hexagon Direct Link". The DSP runs Semantic Segmentation neural networks in real-time. Thanks to Hexagon Direct Link, the DSP and the ISP can operate simultaneously. The ISP captures images and the DSP assigns context to every image in real-time.
Please see here for more information on Qualcomm's Cognitive ISP. The Edge AI and Vision Product of the Year Awards celebrate the innovation of the industry's leading companies that are developing and enabling the next generation of edge AI and computer vision products. Winning a Product of the Year award recognizes a company's leadership in edge AI and computer vision as evaluated by independent industry experts.